Mad Tea Party - Empty Teacups - Disneyland
A shot I grabbed after the park had closed. This is an HDR shot composed from 5 exposures in Photomatix. I then did a little cleanup in Photoshop to reduce some lens flares I didn't like by masking back in some elements from one of the exposures.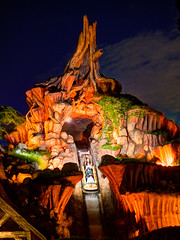 Splash Mountain at Disneyland
I set my tripod up to do multiple exposures and on the last and the longest a log went down the shoot and the flash went off for the photo you can purchase at the end of the ride. I was quite surprised when I looked at the screen to see how cool it was that their flashes light up the scene so perfectly. 5 shot HDR run through Photomatix. A little photoshop to remove my brothers large head from the bottom of the photo. Thanks Gary for getting in the way.
Matterhorn Bobsleds and Yeti Footprint
The Disneyland Matterhorn Bobsleds in the background with the Yeti footprint in the foreground. 5 exposure HDR run through Photomatix.
Looking to Tomorrowland
So this is a little gem I'm sure most visitors miss. So I ran upon this spot just as the little light show went off. I stood there and stood there waiting and nothing so I got some shots of the Astro Orbiter and then left to get some other shots. Came back right at the end again. Finally figured out it went off every 15 minutes and was able to get this shot.
Mr. Toad's Wild Ride
Disneyland - Main Street
This an HDR shot from the train station. I left remove ghosting off and love how the multiple exposures blended together to create movement in the shot.
Bat Lamp - Port Royal Curios and Curiosities
Photographically there is nothing special here, it's just a cool-ass lamp that helps make Port Royal Curios and Curiosities an awesome store.
King Arthur Carrousel - Fantasyland - Disneyland
Photomatix is great for combining exposures for eye-popping HDR but for me it's just the beginning. Once Photomatix has done the hard work I finesse the shot by impotying it back into Photoshop with other layers and using layer mask and paint back in other exposures to get the final image where I want it.
Add Your Comment